Dear all,
We would cordially like to invite you to take a part at a third edition of our summer schools! Our university is situated in the pleasant city of Liberec, on the very border between Czechia, Germany and Poland, merely one hour by public transport from Prague. It is a charming place and our university contributes to the vibrant face of the city during the academic year. We would like to invite more international students to experience a chance to study here. Therefore, we prepared courses focused on the current European issues seen from the Central European perspective. These courses will be primarily based at our university in Liberec, but their substantial parts will be done by field trips. You will have a chance to attend 3 Central European countries. As summer should be also a fun-time, we prepared the accompanying social programme full of culture and sports. We believe that you will accept our invitation and decide to spend a part of your summer in Liberec.
Welcome!
Jan Picek
Dean of the Faculty of Science, Humanities and Education, Technical University of Liberec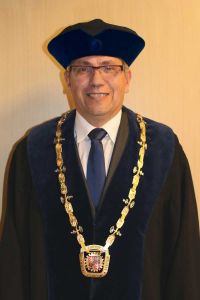 "Either you're going uphill or raining." The sentence that you hear from local real often expresses not only the character of cities, but also a rough sense of humor of its inhabitants. North Bohemian town of Liberec and Jablonec nad Nisou, textile and glass past and are characterized by hilly terrain and diverse architecture. Former German cities connected river Nisa and Czech unique is the fact that you can get from one to another tram. Nature is so close at hand, they are both considered the gateway city to the Jizera Mountains full of towers, prospects and proper hills. No wonder the area is known as a paradise for skiers.
If you prefer walking around the city, the architecture will certainly not disappoint. When wandering exudes the character of former Sudeten cities. After all, Liberec was known as "the capital of German Bohemia". Boasting beautiful town hall, historic part of town Liebig, exhibition villas, simulating architecture cities in the Austro-Hungarian Empire and the world-famous Ještědem.
And to the north spend your leisure time? Jablonec nad Nisou and Liberec are specific to their love of the sport. The previously mentioned ski resorts offer great services for downhill and cross-country skiing, both cities have pools, bike paths and other sports. Cultural opportunities in both cities is also sufficient. Jablonec is known for its club atmosphere and organizing various fairs and folk festivals, Liberec again as quality and puppet theaters FXŠaldy Naive Theatre.
If you meet during walks with local, do not be afraid to strike up a conversation. Almost every town inhabitants or Jablonečák be happy to discuss the topic of weather, construction of new shopping centers in the city or industrial past of the city. Visit sites known or wander into parts that are less explored. Anyhow, keep your eyes open and soak up the atmosphere of the place with the genius loci, which is in both cities more than enough.